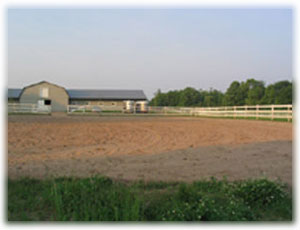 Vernadee is a riding stable owned and operated by life long equestrian Gail Schmidt. It has a quiet, relaxing atmophere for the non-competative rider to learn and flourish. The facilities are nestled on the Niagara Escarpment on 40 acres complete with a woods, pond and stream. Located at 7051 McNiven road, Campbellville Ontario which is easily accessible from Hamilton, Burlington, Milton, Oakville and Guelph

Vernadee began in the year 2000 based on the best ideas and designs from the places and people encountered over the years. There are still a few finishing touches but everything is built and designed for the comfort of horse and rider.

Please look though our site to find out more about our camps, lessons, horses for part board, boarding, and information about our facilities and availablities.